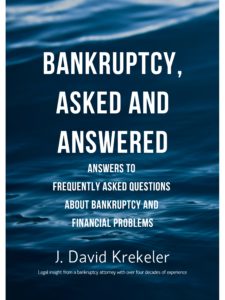 Got questions about how bankruptcy works and whether it could help you? Attorney Krekeler's book Bankruptcy, Asked and Answered has the answers!
This extensive guide provides an in-depth look at the commonly asked questions that Attorney Krekeler has received over his long career as one of Wisconsin's top bankruptcy attorneys.
Written in a conversational, easy-to-understand style that makes the subject approachable and interesting, this book is a great resource for business owners and consumers struggling with financial difficulties or anyone interested in bankruptcy.
Bankruptcy, Asked and Answered is the definitive book on * Ethics of bankruptcy  * History of bankruptcy  * Bankruptcy and taxes  * Bankruptcy and real estate  * Bankruptcy and divorce  * Fraudulent transfers and other mistakes to avoid  * Chapter 7  * Chapter 11  * Chapter 12  * Chapter 13  * Bankruptcy timelines  * Bankruptcy's effect on credit scores
We're so pleased to share it with you.