: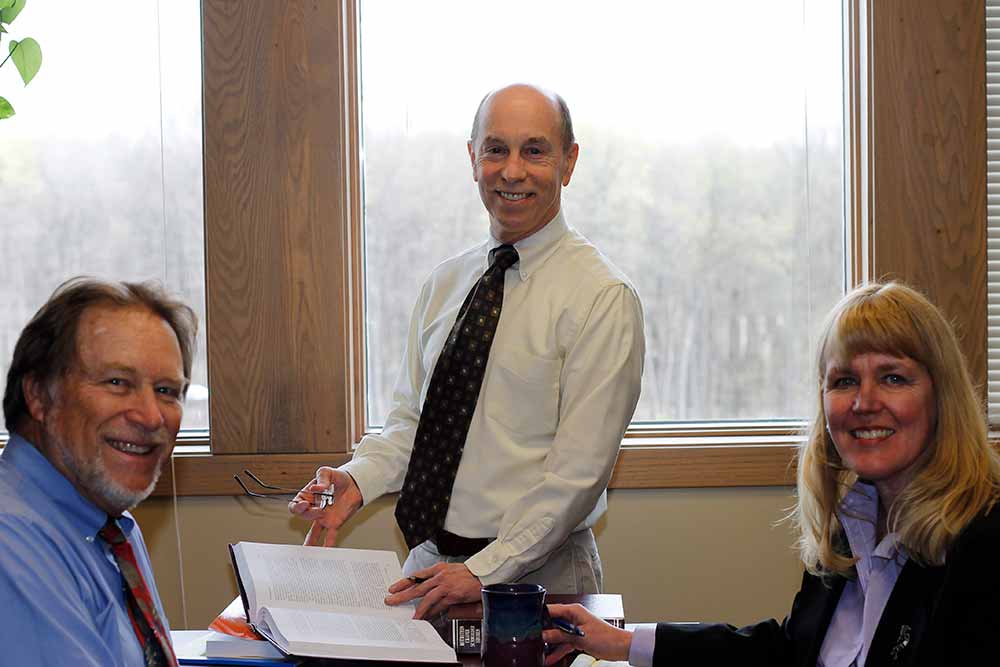 Who We Are
We opened our doors in 1982 to serve the legal needs of people throughout Wisconsin. Our mission is to help Wisconsin people and businesses and leave them in a better position than when they first met with us. Our attorneys and dedicated staff have expertise and experience in a multitude of different aspects of the law to help our clients.
What types of matters do we handle?
A large portion of our work involves consumer and business bankruptcies and debtor/creditor solutions. If you are a consumer or operate a business and you need to address issues with your creditors, we can help you. If you are creditor in need of guidance when a debtor files a bankruptcy, we can help with that as well.
We've recognized through the years, that we can't simply handle bankruptcy and debt negotiations without experience in other areas. To that end, we also represent creditors in collection actions, homeowners in foreclosure, consumers bringing actions under state and federal consumer protection laws against debt collectors, creditors, and manufacturers, and tax issues that arise inside and outside of bankruptcy. We can also help with employment law and probate matters. If you come to us with a problem, we will either work with you to fix that problem or find you someone who will help.
We also handle IRS representation services:
• Power of attorney (so we can act on your behalf)
• Respond to IRS correspondence
• Offer in compromise (including Forms 433-A and 433-B Preparation)
• Tax lien assistance
• IRS levy assistance
• Innocent spouse relief
• Payment plans and installment agreements
• Reduction of penalties
How do we do our work?
We have a reputation to uphold. We have a reputation in the community, with our past and current clients, judges, court officials, other law firms, and anyone else who might encounter us. We want your case to be another reason to turn to Krekeler Law for your legal needs. You've taken the time to come to our offices in Madison or otherwise communicate with us, and in turn, we will make sure we communicate with you throughout your case.
Every case is different and we will listen to your individual needs to craft a legal strategy specific to you. We start each case by understanding your goals and developing a clear understanding of the facts. From there, we can explain the law in an understandable manner and recommend your best course or courses of action. We refuse to treat the law as a process of filling in the blanks on forms. Instead, we believe in creative problem solving and taking the extra step to get our clients anything and everything they're entitled to receive.
We will maintain the highest level of integrity while aggressively pursuing your available solutions. For instance, every law firm will help its clients avoid unlawful harassment by creditors following a bankruptcy. Most law firms send a letter and charge their clients a small fee to get a creditor to comply with bankruptcy court orders. Our innovative lawyers go farther and find ways to make harassing debt collectors pay for violating the law. We have used federal and state regulations to force creditors not only to stop harassing our clients, but to pay damages to our clients for the illegal actions in which the creditors have engaged. Rather than simply charging our clients for efforts to enforce the law, we have managed to put money in their pockets on numerous occasions.
Leadership
To us, leadership means service in our State Bar, local bars, specialty organizations and civic groups. It also means teaching and giving back through educational opportunities with seminars, webinars, teleconferences, and scholarly articles about the law. Finally, leadership also means we are willing to pursue innovative solutions to establish what the law is and what it should be. Our lawyers and staff have received accolades in Super Lawyers magazine, have taught on a variety of topics, and have litigated cases to define and redefine parts of the law that are unclear or that we believe are wrong. Being at the forefront of the law helps our own development and promotes the best interests of our clients.
Teamwork
Many cases we work with are very complex. We couldn't do this work alone. Instead, we turn to each other to work as a team to achieve our clients' goals. This means collaboration with other lawyers and staff and generating the creative and effective solutions you expect from a firm with our experience and reputation.
Peace of Mind
We are a debt relief agency, and relief is what we can offer. Peace of mind from creditor harassment. The comfort of finding a way to salvage an important business, receive a loan modification to save your home, or eliminate debt to start fresh. Whether your case involves a bankruptcy, the challenges of navigating the probate system or state court or simply direct negotiations with a creditor or business partner, we want to ease your concerns and serve as a trusted guide through the legal system.
Related pages
Meet our Team of Attorneys
Meet our Paralegals, Legal Assistants, and Accountants